Intercultural communication skills grow during study and exchange
Global and intercultural communication are important areas of study and practice, even in a Zoom-filled world.
Four students share their global learning experiences below.
Catalan Food: Calçots, Communication of Identity, and A Rite of Spring
By Sarah D. Thomas and Anna McCaffrey

Editor's Note: This piece of food writing is from Dr. Yoder's Winterim course in Spain that explores how food is used to communicate national and regional identity.
For Catalans, mealtimes are often unrushed, meandering social experiences, and the traditional Calçotada feast may just represent the pinnacle of that. This annual celebration of uniquely Catalan foods also represents an opportunity for Catalans to celebrate their distinct regional identity. Our time in Barcelona coincided with the start of Calçotada season in Catalonia, but it wasn't until we had an opportunity to experience a Calçotada that we were able to fully appreciate how fortunate this timing was. We enjoyed ours at the Cal Ganxo restaurant in Valls, the rural Catalan town that calçots originate from. 
Calçots are a type of spring onion, resembling a leek or scallion, that are produced by replanting fully developed white onion shoots in the ground and continuously covering them with soil (a process refered to as "calçar" in Catalan) as the white, edible shoots grow. The result is a blanched, tender, slightly sweet onion shoot, or "Calçot." The harvest of the calçot culminates in a season of outdoor feasting, or Calçotada, that revolves around the grilling of calçots. These feasts are all-day marathons of cooking, eating, drinking, resting, and then eating again, where sitting down at set table is a rare occurrence, as calçots are typically consumed standing up and sometimes while wearing a bib (for reasons that will soon be made clear). 
A Calçotada begins with grilling the calçots over a fire made from old, dry grape vines. Once the calçots are completely charred on the outside, they are wrapped in newspaper and then served on a roof tile. Diners eat the calçots by hand, first stripping off the charred layers, then dipping the onion in the romesco sauce (a traditional Catalan sauce made from roasted tomatoes, garlic, red peppers, nuts, and olive oil), and finally biting off the whole shoot up to the bulb and enjoying the unique, sweet-smoky flavor. We gleefully repeated this process a dozen or more times before we remembered the immense course of meats, grilled vegetables, and beans (not to mention alloli sauce) that would soon follow. These meats, such as lamb and sausages, are grilled and served over hot coals. The final dish, was a plate of Crème brûlée-like Crema Catalana although don't let a Catalan hear you say that—most insist that the Catalan version predates the more well-known French dessert!).
Although we only had the opportunity to experience one Calçotada during our stay in Barcelona, many Catalans will attend multiple Calçotades over the course of the season. Some will be barbecues at country homes, while others will be at park sites near Barcelona. There has also been an increase in restaurants hosting Calçotades so diners, particularly city-dwellers, can enjoy all the flavors of the feast, without the work or mess. 
Suffice it to say, there is no other onion quite like a Catalan Calçot, and a trip to Catalonia without a Calçotada would be simply incomplete. 
Dubai: City of Dreams
By Nevin McKay Epp

Dubai: City of Dreams, led by Dr. Hamilton Bean, is a new Winterim course that studies the intersecting forces of commerce, modernity, and identity in the United Arab Emirates. Dubai is one of the most unique cities in the world because over 90% of its population is non-Emirati, which creates interesting economic, political, and social dynamics. Emiratis have opened their doors to the world and Dubai has become a leader in trade, tourism, and services. Throughout the course, we learned about Dubai, from its early days as a fishing village, through key decisions that its leaders made in the 20th century, up to today's focus on technology and innovation. As we learned about the city and its rapid development, we critically analyzed the interrelationships among national and cultural identities, site of commerce and exchange, and the balance between tradition and modernity. Dubai is a one-of-a-kind city that is awe-inspiring to study.
Dubai's not a perfect city by any means, and this course highlighted its challenges. There is an almost complete disregard for sustainability. Dubai is a city of excess and breaking boundaries, which is something that many consider a great achievement. Buildings are big and the AC systems are bigger. The Burj Khalifa (the tallest building in the world), which we visited, uses about as much energy as a small city. We also took on the challenge of debating the authenticity of cultural sites, many of which are found within or alongside malls that are obviously designed to sell commodities to locals and tourists. We questioned whether it is possible to consider malls valuable cultural sites. On that same note, we visited the Sheik Zayed Grand Mosque in Abu Dhabi. It is a beautiful structure, and many Emiratis are very proud of it. However, it also has a shopping section designed to appeal to visitors and tourists. Finally, the Wafi Mall in Dubai raised questions about whether it is an authentic cultural spot. In my opinion, it is. I argue that because even though the mall is fabricated, one of our course texts talks about how important the mall is for reflection and education. When we are arguing about whether a site is authentic or valuable, we must ask ourselves if we learned something new. In our case, we certainly did.
Learning from Beijing to Denver
By Zihan Gao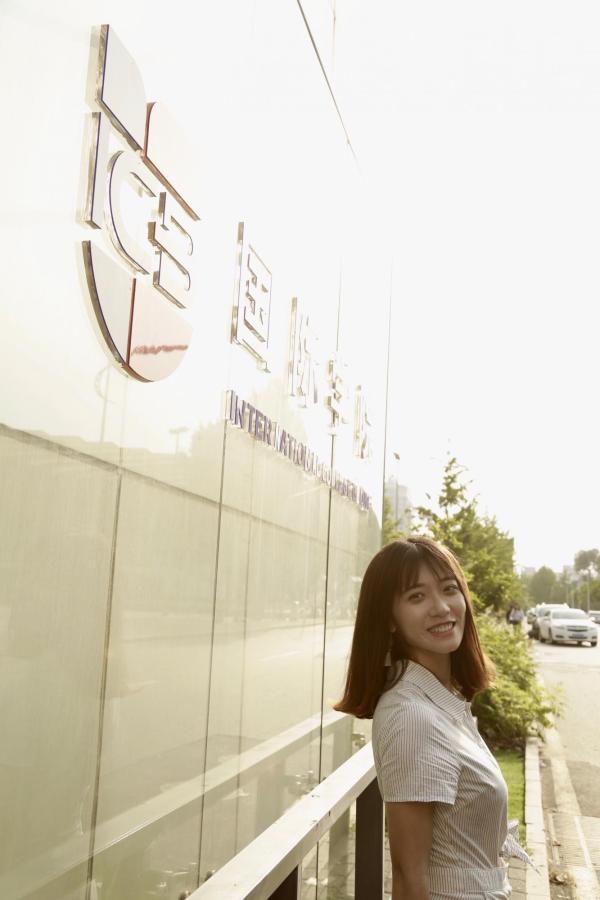 In the summer of 2018, I came to Denver and started my junior year in Denver. I think I have grown a lot in these two years. These changes helped me with my graduate school applications. First of all, different cultures create a habit of critical thinking. Secondly, CU Denver's diverse courses helped me understand more deeply what communication is. Also, different professors lead us to study more varied topics according to the class. In the process, I not only improved my English but also enhanced my ability to do research. These factors have laid a good foundation for my graduate applications. In the past two years, I have continuously tried different communication courses and looked for my future development goals. Because of the professional knowledge I learned at CU Denver, I got an internship at Ogilvy and Mather last year. After 2 months of work, I made the decision to choose this industry for my career. At the same time, I also realized my shortcomings. So, I want to continue learning and become more professional. Life at CU Denver was the happiest two years of my college time. Not only did I become more independent, but I also met many excellent and kind professors. They are willing to do their best to help me, and they also gave me a lot of help for my graduate school applications. So here, I want to thank my professors. In the future, I will continue to apply what I have learned in CU Denver to graduate schools and study harder to become a useful person in the communication area. Editor's Note: After receiving offers from more than 7 respected graduate programs, Olivia has chosen to attend New York University in the fall.