China/Chinese Dream Discourse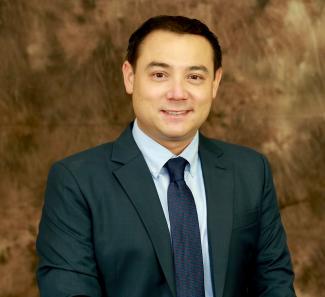 Dr. Patrick Shaou-Whea Dodge's (Ph.D., University of Denver, 2011) research interests intersect at the crossroads of culture and communication, intercultural communication, and Sino-U.S. communication, driven by a desire for stronger U.S.-China cross-cultural alliances. His current research project explores "China/Chinese Dream" discourse and how the current administration is working to "make China great again," which has led to extensive travel throughout China, including Taiwan, Kinmen, Green Island, Gulangyu, Hong Kong, and Tibet, in search of 'harmony' and 'dreams'.
Dr. Dodge is a member of the National Communication Association's (NCA), "Task Force to Foster International Collaborations in the Age of Globalization". He is a recipient of the "NCA Advancing the Discipline Grant", for which he worked with Communication University of China (CUC) partners to co-organize a 2016 CUC-NCA co-sponsored conference, "Communication, Media, and Governance in the Age of Globalization". His work at the conference has carried over into the edited monograph (forthcoming), "Communication & Convergence in the New China."
With two hundred+ Communication scholars and practitioners from over 10 countries, the success of the summer conference has led to a second NCA-CUC conference scheduled for the summer of 2018, as well as the establishment of the conference meeting biennially in Beijing, China. In 2017 he received an NCA Presidential Citation for his service work on this front.
Recently, Dr. Dodge published, "Imagining Dissent" a chapter in the book Imagining China (Edited by Hartnett, Keränen, & Conley - Michigan State University Press), in which he critically examines emerging communication platforms built on the rhetorical subterfuge, artistic creativity, and political daring of engaged netizens in China. He makes the case that everyday rhetorical battles are helping shape the contours of political imagination and the very platform of communication—what legitimately can and cannot be said, and how and where—in the evolving social landscape of contemporary China.
His work has been published in journals such as Communication & Critical Cultural Studies, Journal of Communication, Intercultural Communication Studies, Women & Language, and International Journal of Intercultural Relations.
Dr. Dodge has taught communication courses at ICB since 2007. His mixed ethnic background (Chinese/Taiwanese-American and European-American) has fueled his passion to learn more about China and Chinese culture and communication.
Sexting and New Media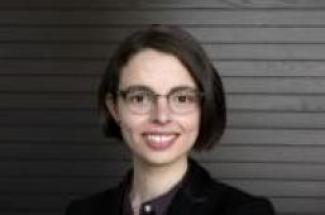 Dr. Amy Hasinoff's interests lie at the intersection of gender, sexuality, new media, and popular culture. Her forthcoming book on sexting investigates how people respond to sexting across mass mediated, legal, and educational settings. "People often think that the best way to approach sexting is to simply discourage it and advise teenagers to abstain from sexting," says Hasinoff. "However, if we do that we're missing out on an important conversation about our expectations and rights to privacy."
Based on her study of a range of sources such as television news, talk shows, newspaper articles, press releases, legal proceedings, and legislative and parliamentary hearings and debates, Hasinoff believes that the many of the current responses to sexting are ineffective. "Since teen sexting can be legally classified as child pornography if it's explicit enough, legal and educational authorities often blame and even teens who sext, but at the same time they often pay little attention to people who maliciously distribute private images without permission," Hasinoff explains. She argues that given the amount of information we share on social media platforms, privacy protections are more important than ever.
"I'm fascinated with how new media is positioned as both the cause of and solution to a range of social problems, and with the implications of those ideas," Hasinoff says. "In my New Media class we discuss the importance of our beliefs about new media. How we think about new communications technologies has a significant impact on the way we use and regulate these devices," Hasinoff says. "For example, we're often told that 'privacy is dead' and that 'information wants to be free,' but these assumptions about information online are as much the result of ideology as they are about the nature of digital media."
In both her research and teaching, Hasinoff brings a focus on social justice issues to the topic of social media, particularly as it relates to gender and sexuality. "While many users may not be concerned about media companies like Facebook selling their personal information to advertisers, for others privacy violations could have significant impacts. Consider a person who's closeted at work or a someone trying to avoid an abusive ex-partner—in these situations privacy can be a serious personal safety issue."
Hasinoff also writes about representations of gender, race, and sexuality in popular culture. Her article on race in America's Next Top Model appears in Critical Studies in Media and Communication, and her work on the new TV show Masters of Sex is published in the online journal Flow. For more information on Hasinoff's research, visit her website: http://www.amyhasinoff.com.
The Rhetorics of Health and Medicine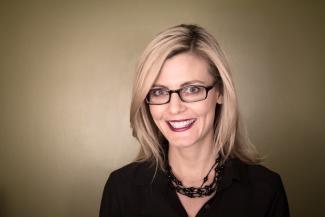 The rhetorical relationships among medicine, health, and bioethics are at the heart of communication professor Lisa Keränen's research and teaching.
"From the time we are born to the time we die, health communication is a fundamental part of our personal and public lives," says Keränen. "I am interested in understanding how people participate in medical decision making, and I am concerned with the ethical dilemmas surrounding emerging health and medical practices."
Her recent book, Scientific Characters: Rhetoric, Politics, and Trust in Breast Cancer Research (published in 2010 from the University of Alabama Press's award-winning series on Rhetoric, Culture, and Social Critique) addresses how various stakeholders participated in health decision making. Scientific Characters chroniclesthe contests over character, knowledge, trust ,and truth in a politically charged scientific controversy that erupted after a 1994 Chicago Tribune headline: "Fraud in Breast Cancer Research: Doctor Lied on Data for Decade." The book analyzes what happens when scientists, patients and advocates are called to speak in public concerning complex technical matters with direct implications for human life, and it sheds light on the challenges faced by scientists and citizens as science becomes more bureaucratized, dispersed and accountable to varied publics. It also considers the ethical dimensions of public communication about problems with scientific research.
Keränen's other publications span topics such as biomedical controversies, end-of-life communication, and biodefense. As Associate Professor and Director of Graduate Studies for the Department of Communication, she teaches rhetorical theory and criticism and rhetorics of medicine and health. Keränen explains, "I have been so lucky at the University of Colorado Denver to be able to integrate my research into my classroom and vice-versa. My rhetoric students have discovered a real enthusiasm for understanding how their communication can impact democratic life, and my health communication students have become avid chroniclers of medicalization in society."
"One of the things I am most excited about," she says, "is working with the Program for Arts & Humanities in Health Care of the Center for Bioethics and Humanities on the Anschutz Medical Campus. The arts and humanities have so much to teach us about humane healing practices."
Keränen is currently writing her second book, titled Envisioning Viral Apocalypse: A Rhetorical History of Biological Weapons from World War II to the War on Terror. The volume chronicles the rise of biological weapons across technical, public and popular imaginaries from the United States' installation of its first germ laboratory in Camp Detrick, Maryland, during World War II to the present post-9/11 "bioterrorism bonanza," which is characterized by unprecedented spending on both civil and military biodefense. Tacking back and forth between scientific reports, declassified government documents, public speeches and popular entertainment, the book charts the ascendance of the rhetorical vision of viral apocalypse as a recurrent and recognizable cultural form that drives biodefense research and development in consequential ways.
Keränen has won numerous awards for her research, teaching and service. Most recently, she was the 2010 recipient of the Karl R. Wallace Memorial Research Award from the National Communication Association. From 2008-9, she was a faculty fellow at the Center for the Humanities and the Arts at the University of Colorado Boulder.